The Maltese dog is a toy breed that can catch anyone's attention. Maltese dog price in India is high, and the reason is its beauty.
Maltese Dog(Puppy) Price In India:
Maltese dog price in India starts from 30,000 to 50,000 in Indian Rupees. You must be wondering why there is so much price difference. But for high-quality Maltese, you have to pay more. Show-quality teacup Maltese price in India can go as high as 1,00,000 Rupees.
Maltese Dog Price In Different Cities Of India:
To know the Maltese dog's actual price, Maltese dog, I called more than 100 breeders across India.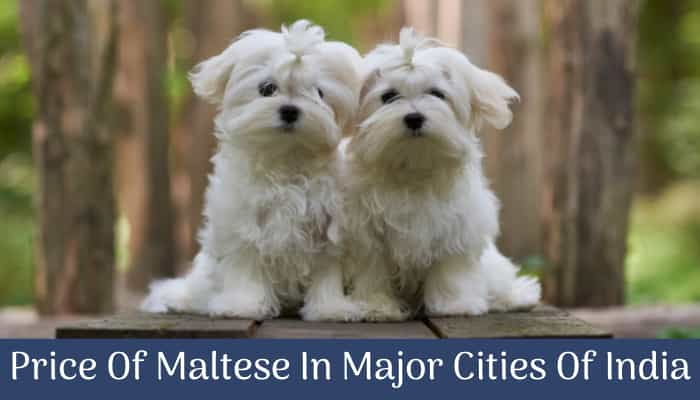 Here is the complete list of Maltese dogs in India.
Maltese Price In Mumbai: Maltese dog(puppy) price in Mumbai is around 45,000 to 50,000 INR.
Maltese Price In Chennai: Maltese dog (Puppy) price in Chennai is 40,000 to 43,000 Indian rupees.
Maltese Price In Bangalore: Maltese dog price in Bangalore is 45,000 to 50,000 INR.
Maltese Dog Price In Kolkata: Maltese puppy price in Kolkata is 30,000 to 35,000 INR.
Maltese Dog Price In Pune: In Pune, you can get Maltese puppy from 40,000 to 50,000 rupees.
| City | Price (INR) |
| --- | --- |
| Delhi | 50,000 – 55,000 |
| Kerala | 32,000 – 38,000 |
| Nagpur | 35,000 – 40,000 |
| Nashik | 36,000 – 41,000 |
Also read: Kangal Dog Price In India
Factors Affecting Price Of Maltese Dog In India:
So, let's know some factors that affect the price of Maltese dogs.
1. Location:
In metro cities like Chennai, Delhi, Mumbai, and Kolkata, Maltese prices will be high compared to non-metro cities. So, buying from non-metropolitan towns will cost you less.
2. Buying Place
You can buy Maltese dogs from three different places: Puppy mills, Pet shops, and professional breeders.
In puppy mills, you will get dogs at low prices. But they do not have quality.
A puppy mill's job is only to breed dogs, sell them, and earn a profit.
In puppy mills, dogs are kept in a low environment and fed with low-quality food. From this, you too can guess what quality of puppy you will get.
However, it cost around 20,000 to 30,000 Rupees. But there is no sense in buying dogs from puppy mills.
Most pet shops order puppies from puppy mills. The difference between a puppy mill and a pet shop is the quality of food and the environment.
But, if the pet show owner ordered the puppy from a puppy mill, it may create health, coat quality, etc.
In pet shops, the price of a Maltese dog will be around 30,000 to 40,000 Rupees.
I want to give you a piece of advice. It would be best if you asked the pet shop owner from where you buy it.
A professional breeder is the best choice to get a Maltese puppy.
In India, professional breeders will charge you 40,000 to 50,000 Rupees. Buying from them is always the best option.
2. Lineage:
From puppy quality, you can get an idea about its lineage.
Pure breed Maltese live a longer life than a mixed breed. So, lineage is a more important factor when buying a Maltese.
3. Age:
Younger the puppy, the higher the price. Puppy Maltese learn tricks quickly. Thus, buying at an early age is beneficial. But you have to pay a little more.
4. Bloodline:
Bloodline Maltese puppy cost more. On average, a Maltese with the champion breed will cost you around 80,000 to 1,00,000 Rupees.
Monthly Expenses On Maltese Dog In India:
You must know the monthly expenses of Maltese before buying. So, you can manage your monthly budget.
So, let's see the monthly expenses of the Maltese breed.
1. Cost Of Feeding:
Maltese puppy requires more calories per day as compared to a full-grown adult dog.
| Age | Calorie per day |
| --- | --- |
| Below one year | 400 |
| More than one year | 200 |
In India, several dog foods are available in the market.
Wellness Complete For Small Breeds, Halo Natural Chicken & Liver Liver For Small Breeds is the best grain food.
Halo Grain Free Bird Medley For Small Breed and Wellness Core Natural Dry Grain Free is the best grain free food for a small dog breed.
This high-quality food will keep your puppy healthy. Along with food, you have to feed clean water.
Here is the feeding plan for Maltese dogs:
| Age | Meals per day |
| --- | --- |
| Puppy up to one year | Three |
| Adult more than one year | Two |
So, the overall cost of feeding Maltese dog is 1,500 to 2,000 Rupees.
2. Cost Of Grooming Maltese Dog In India:
Maltese puppy has floor-length hairs. Thus, you have to groom daily to prevent mats and tangle.
Regular bath and hair conditioning will help you to keep hair at good quality.
Maltese puppy's nails grow fast. So, you have to trim them regularly.
Ear cleaning is also essential. Remove wax and excess hair from there.
The cost of grooming a Maltese puppy in India is around 1,500 to 2,000 Rupees.
A professional groomer can charge you 1,500 to 2,00 Rupees. But if you do it yourself, then grooming will cost around 500 Rupees per month.
3. Cost Of Vet And Vaccination:
Maltese owners must follow the routine of cleaning. Daily brushing teeth with toothpaste formulated for dogs is recommended by doctors.
Till puppyhood cost vaccination is more, you have to take your Maltese to the vet per month for vaccination. It will cost you around 5,000 to 8,000 Rupees. When your puppy turned one year old, then the vaccination cost will be around 1,000 to 2,000 Rupees.
4. Cost Of Neutering/ Spaying:
In India, neutering or spaying will cost you around 9,000 to 11,000 in Rupees. Of course, aftercare medicine will cost you additionally, which is around 1,000 to 1,500.
Neutering cost depends on location. In metro cities like Mumbai, Pune, or Delhi, it is high.
5. Cost Of Toys:
Maltese dogs love to play with toys. It will cost you around 1,000 per year.
6. Cost Of Treat:
Teat plays an essential role in teaching tricks to your Maltese. The cost of a treat for Maltese will be 5,00 to 7,00 per month.
Characteristics Of Maltese Dog:
| Maltese | Characteristics |
| --- | --- |
| Height(cms) | 17 to 22 |
| Weight(Kgs) | Under 3 |
| Lifespan (years) | 12 to 14 years |
| Nature | Smart, playful |
| Grooming | Yes |
| Coat Types | Single |
| Colour | White, White and lemon, White and tan |
| Origin | Mediterranean Basin |
FAQ: Maltese Dog Price In India
Are Maltese good pets?
Yes. Maltese dog breed is a playful, gentle and charming. You as a owner can teach them some tricks too.
Are Maltese high maintenance?
Yes, Maltese dog requires high maintenance. They need monthly grooming and daily brushing.
Can Maltese live in hot weather like India?
Yes, Maltese can live in hot India. But you have to maintain temperature using AC or cooler(AC is best option). Max 25 degree Celsius best temperature to live for Maltese.
Do Maltese dogs bark a lot?
Yes. Maltese is known for his cuteness as well as barking. Most of the toy dog breeds have habit of barking.
Whenever he considers himself unsafe, he starts barking.
Do Maltese dogs shed?
No. Maltese sheds infrequent.
Are Maltese easy to train?
Maltese is one of the easiest dog breed to train. These dogs have lived with humans for many years. That's why they know what we need.
With proper training, love and good treats, you can teach them some good tricks.
Can a Maltese be left alone?
A puppy Maltese of 6 months can be left alone for 2 hours. While you can leave alone an adult Maltese for 4 to 6 hours. But adequate water and food must be provided.
I recommend you that do not left alone them for log time. If you have no time, then don't buy them.
Conclusion:
Maltese dog price in India is slightly high. But this dog worth buying.
Maltese is the perfect pet for any middle-class Indian family.
If you still have some questions regarding Maltese dog, then please comment below. I will try to solve them.
If you like the article, then share it with your friends and on social media handles. Thanks!!!