Traveling and exploring new cities, states and countries is the best way to build beautiful memories. And what's better than building those incredible memories with your furry friends.
Passports are one of the key elements for traveling across the world. Basically, it's an international ID that has all the essential details about the passport holder.
Everyone needs a passport to travel, similarly even dogs require a passport to travel with you. 
Whether you are planning on traveling with your dog to or from India, you need to follow some strict guidelines.
Getting an Indian Pet Passport is quite easy and just takes a few easy steps.
In today's article, we will go through a step-by-step guide on How to get a dog passport in India. 
What does a dog passport mean in India? 
The term dog passport refers to the requirement of documents that are needed while traveling to or from India with your dog. A dog passport will demonstrate that the dog is fit and healthy to travel. 
What does the dog passport consist of? 
 Generally, the pet passport consists of any of the following documents 
Details of ownership (name, address, contact info, passport number, etc.) 
Description of the animal (breed, type, date of birth, etc.)
Rabies vaccination certificate
Rabies antibody titer test results 
Health Certificates by a licensed veterinarian
Treatment records and/or additional vaccinationParasite treatment records
Anti-echinococcus treatment records
Official veterinarian details
Microchip details 
Optional photo of the dog
NOC and Import permit
The passport will contain details of ownership, dog description, official veterinarian details, microchip details, rabies, heath certificates, and additional treatments.
These are mandatory documents to travel with your dog. In the case of exporting your dog from India, you might require extra vaccination and documents, as every country has different importing guidelines or requirements. 
All the documents must be stamped and signed by your veterinarian with official stickers for the medication used. 
Mandatory Health Requirements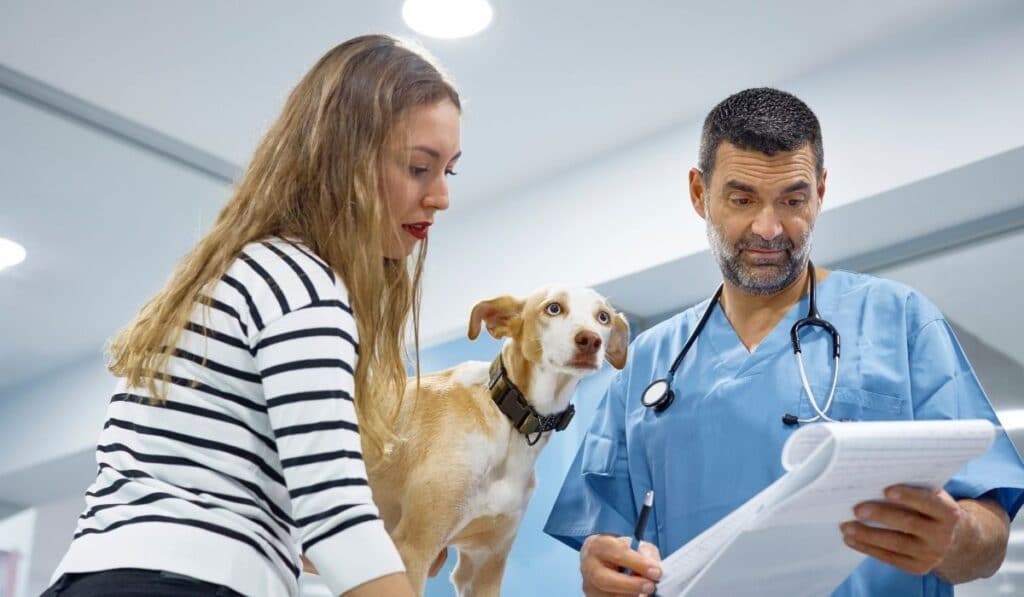 1. Health Certificates
Health Certificates are required in case of import/export of dogs to/from India. You can easily obtain a health certificate from your veterinary hospital/ clinic.
If the dog suffers from any underlying health issues the certificate must clearly state it. 
2. Microchips
A microchip is a permanent method of electromagnetic identification. The chip is just under your dog's skin between the shoulder blades.
It is around the size of a grain of rice and each chip has a unique number. It is highly recommended to get dogs microchipped. 
3. Rabies Vaccination
To get a passport your dog must be fully vaccinated. Dogs above the age of 3 months compulsory require rabies vaccinations when traveling.
The vaccination must be done between 30 days to 12 months before the journey. 
4. Additional vaccinations 
To obtain a dog passport your dog but also be additionally vaccinated against the following: 
Distemper 
Parvovirus 
Leishmaniasis
Leptospirosis
A step-by-step guide to getting a dog passport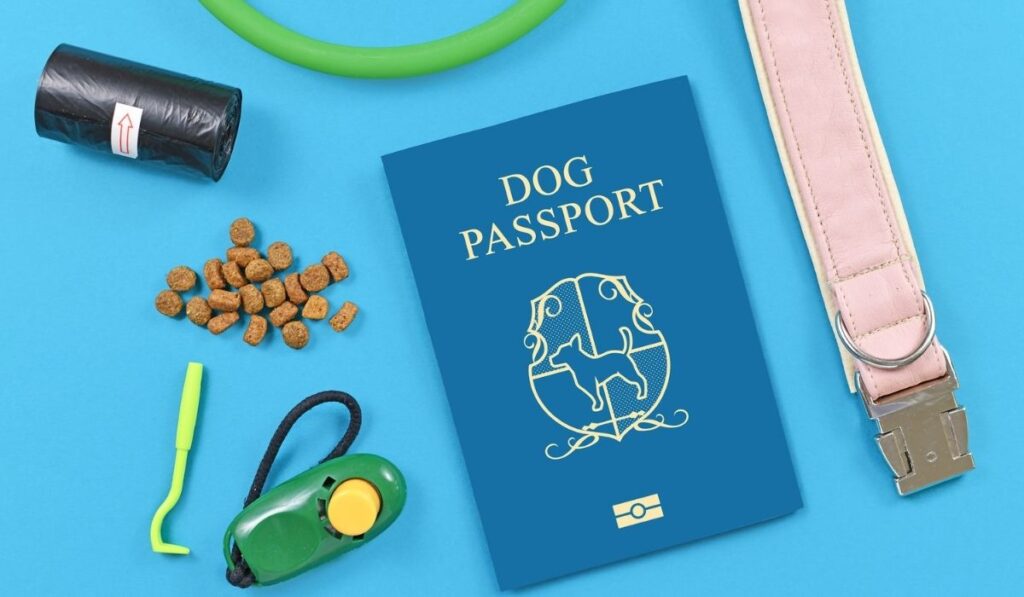 You have to follow a few major steps to obtain a dog passport and if done correctly the procedure is quite simple. 
1. Research
Researching about the requirements is key for a smooth process.
The entry requirements may vary from country to country depending on many factors such as dog breed, age, and so on. It's important to know if your dog is permitted in that particular import country.
Generally, they ask for a health certificate, rabies vaccination, and microchip. But some countries may also ask the following: 
Tapeworm treatment 
Import permits/license
Additional vaccination from harmful diseases like bordetella, distemper, hepatitis, leptospirosis, parainfluenza, and parvovirus.
These vaccinations must be taken between 30 days to 12 months before commencing the journey.
Pro-tip — If traveling outside India make sure you do thorough research before visiting your vet.
This will ensure that you know exactly what tests/treatment or papers your dog requires to enter the destination country.
Also, check if there are any specific requirements that you need to fulfill while returning to your home country. 
2. Visit your veterinarian
When booking the appointment, make sure you inform your vet, where you and your pet are planning to head, so they can prepare your pet's vaccination. 
If you are planning to head outside of India, they may need to prepare additional treatments and vaccinations. 
Some countries also require rabies titer tests or rabies blood tests before entering their country.
During the appointment, the vet will perform a general examination.
Once fully satisfied with the examination, your dog is ready to travel. After the examination, they will review and stamp all the paperwork. 
3. Document endorsement
Health certificates are compulsory to import/export a dog to/from India.
Your pet's health certificate must also be endorsed by your home country's governing authority that is responsible for the import and export of dogs. 
For the procedure you will require the following: 
Payment for endorsement services 
Prepaid shipping label to return the documents
Import permit also known as NOC. 
Original health certificate, signed and dated by a certified veterinarian. 
The endorsement of documents also depends on the country you and your pooch are visiting. Every country has different requirements to enter their country. 
4. Import permit and NOC
A NOC (No Objection Certificate) is required before entering India, regardless of the fact whether the dog is accompanied by the owner or not.
The NOC must be applied by the owner or an owner's representative. You can easily apply for this document to the Animal Quarantine Station and this is a mandatory document. 
The NOC must be obtained by a local clearing agent. This process can't be done online and needs to be done in person.
You must get this document within 15 days of your arrival to India and this document will take approx 5 days to be obtained.
The NOC is sent to the owner by fax or scanned copy by email. This original document must be carried and presented to the airline in India at the port of entry. 
If you are traveling with more than 2 dogs, you will have to apply for a license to import from the Directorate General of Foreign Trade.
While traveling from India you may require an import permit, depending on your destination country. 
After following all 4 steps you have obtained all the necessary documents to travel smoothly with your furry companion. 
Key Points to remember 
Follow all the airline guidelines according to their pet carriage policy. Do not ignore a single guideline. 
You are permitted to travel with two dogs and if you are planning to bring more than you need to apply for a DGFT license. 
Pets must arrive within 30 days of their owner's first immigration stamp as displayed on their passport after being issued a proper work or dependents visa. If the dog is traveling unaccompanied it must return between 7 and 14 days after the owner. 
Cost of dog passport 
The cost of a dog passport depends on various factors and the cost can vary dramatically depending on those factors. 
Conclusion
Hopefully, this article was informative and helps you understand the process well.
Make sure to go through the Airline policies before booking your tickets and gather all the necessary required documents without fail. Sweet journey.