Bichon Frise is an intelligent and cute toy dog breed. If you want to buy it, then read this article.
We will talk about Bichon Frise price in India[2021] and India's various cities, factors affecting it, and monthly expenditure.
So, let's start.
Bichon Frise Price In India:
The price of Bichon Frise dog and puppy in India is 30,000 to 70,000 Indian rupees. It can go up to 1,20,000 INR for show quality breed.
Price Of Bichon Frise In Different Cities Of India: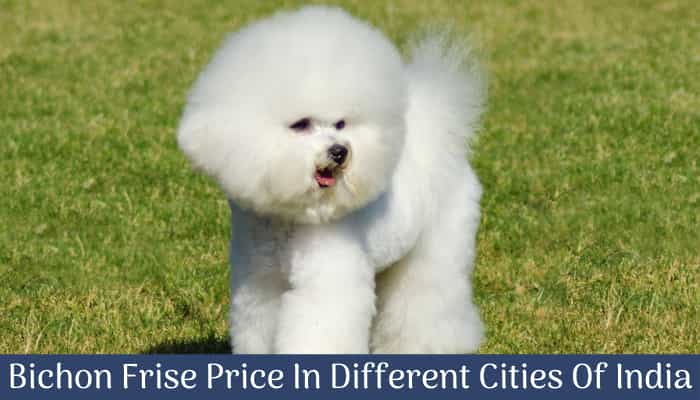 I called more than 20 professional breeders to know Bichon Frise cost in India.
Here is the price of Bichon Frise:
Bichon Frise price in Mumbai is 60,000 to 70,000 in rupees.
In Chennai, you can buy Bichon Frise from 45,000 to 55,000 rupees.
Bichon Frise price in Delhi is around 60,000 to 70,000 rupees.
| City | Price(INR) |
| --- | --- |
| Jaipur | 42,000 to 47,000 |
| Maharashtra | 50,000 to 55,000 |
| Nagpur | 40,0000 to 45,000 |
| Nashik | 45,000 to 50,000 |
| Punjab | 30,000 to 40,000 |
Factors Affecting On Price Of Bichon Frise:
1. Location Of Buying:
In Indi, there are few professional breeders of Bichon Frise. You have to import Bichon Frise either from another state or country. Thus, location will affect the cost of Bichon Frise.
2. Buying Place:
Buying place is one of the factors which affect the price of Bichon fries.
In India, you can buy Bichon Frise from three different places.
We will discuss it one by one.
Pet mill is one of the significant sources of pet exporters. But you will not get quality in them.
Pet mill works on quantity over quality. They feed low-quality food in a lousy environment to dogs. After breeding dogs, they sell them to pet shop owners. They make a profit on food and other services like grooming, vaccinations, etc.
Thus, you will get an unhealthy puppy.
Buying from puppy mills means you are supporting them indirectly.
Pet shop is not different than pet mill. You can say that it is a medium between you and the puppy mill.
Pet shop owners buy puppies from pet mills and sell them. To save some money, they have to do it.
But there is one more trustable option. Professional breeder.
A responsible professional breeder will never do breeding for profit. A puppy gets geed quality food and environment in his entire life.
You will get a good lineage, quality, and healthy puppy from a professional breeder.
3. Lineage:
A good lineage has a higher price.
A lineage defines dog quality, personality, and temperature. It is an essential factor while choosing a dog. But most of the owners don't know about this.
You can find lineage on the registered kennel club easily.
4. Birthplace:
Depending upon the place, you have to pay. For example.,
In Mumbai, the cost of grooming, vaccination is more as compared to Nagpur.
Monthly Expenses On Bichon Frise:
Bichon Frise is a small dog breed. You have to take care of him a lot.
Here, we will discuss grooming, feeding, treat, and other costs of Bichon.
1. Feeding Cost Of Bichon Frise:
Bichon Frise is a cute dog breed. Watching him while eating is a treat for everyone.
You can feed Bichon Frise:
Here, you have to understand that half of Bichon's diet should be based on non-veg food.
Let's understand Bichon Frise physique first:
So, without overfeeding Bichon Frise, you have to maintain his health. So, it will make possible with the help of calorie requirements per day.
| Phase | Calorie per day |
| --- | --- |
| Puppy | 370 |
| Adult | 530 |
To divide calories in a day, you have to follow a diet plan.
| Phase | Meal Per Day |
| --- | --- |
| Puppy | 4 |
| Adult | 3 |
| Senior | 2 |
You can visit Bichon.org to know more about feeding Bichon.
The cost of feeding Bichon Frise is around 3,000 to 5,000 Indian rupees per month.
2. Cost Of Grooming Bichon Frise:
Bichon Frise is well known for his coat. Thus, you have to maintain his coat quality by bathing, combing, or taking grooming sessions.
A good quality groom session by a professional groomer will cost you around 3,000 to 5,000 INR. It will change depending upon your local area and the service they provide
3. Cost Of Vet And Vaccination Of Bichon Frise:
In puppyhood, you must have to take extra care of Bichon Frise by vaccinating.
It will cost you around 2,000 to 2,3000 rupees. In government hospitals, free vaccination will be done.
4. Cost Of Treats:
You can teach tricks to Bichon easily with the help of treats. It can cost you around 500 to 1,000 rupees per month.
5. Cost of Toys:
You have to pay 500 to 1,000 rupees per month for toys.
Conclusion:
We have discussed Bichon Frise price dog in India, which affects its price and monthly cost to raise.