Looking for the best brush for your Golden Retriever? These lovely compassionate dogs are moderate shredders all year round but can start shedding heavily during the shedding season/summer season.
Golden Retrievers are blessed with a dense, water-repellent outer coat with a thick undercoat that protects them from cold. They have fur feathers on their legs and paws, with heavy feathering on their back, chest, tail, and thighs.
Grooming and maintaining a thick coat can get difficult and frustrating for many dog parents, especially during the shedding season. 
The solution for this problem is investing in a good quality de-shedding brush. You'll find many dog brushes in the market, but the key is to pick the right one for your Retriever.
In today's article, we will look at the 7 Best Deshedding Brushes for Golden Retrievers in India. 
Type of brushes for Golden Retrievers 
Before we get into what types of brushes are best for Golden Retrievers, let's understand the basic importance of brushing their coats.
Firstly it prevents and removes mats. Not only that it also helps you have less loose fur all around the house.
Lastly, it gets rid of all debris and loose fur and helps maintain a healthy shiny coat. Two brushes you can use on your Golden are;
1. Slicker brushes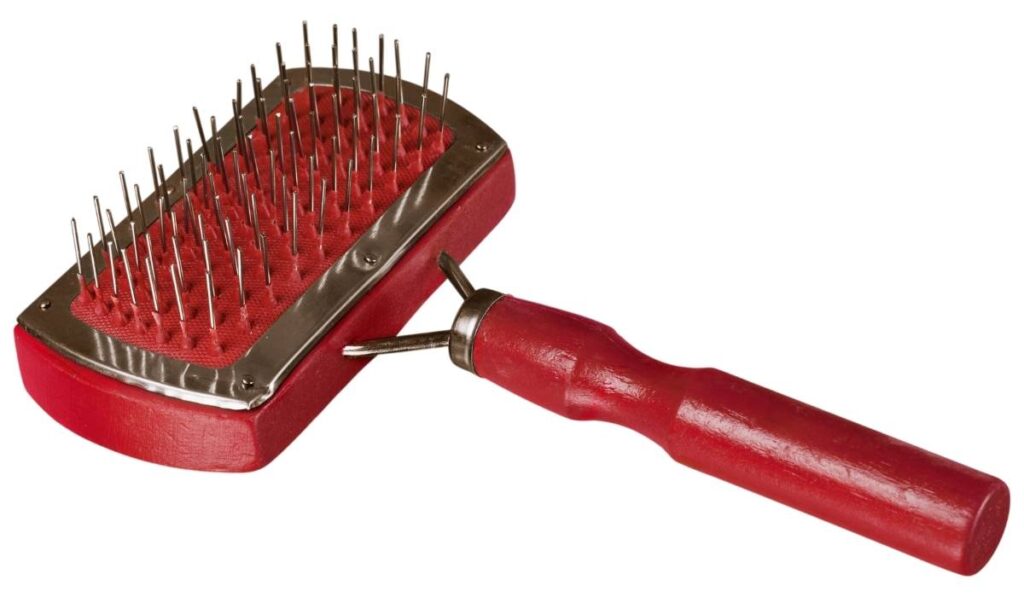 A Slicker brush is made out of fine wired angle teeth that get out all the mats, loose hair, and debris easily. They usually have a soft or rubbery tip to be gentle on your dog's skin and are extremely safe for your dog. 
2. Undercoat rakes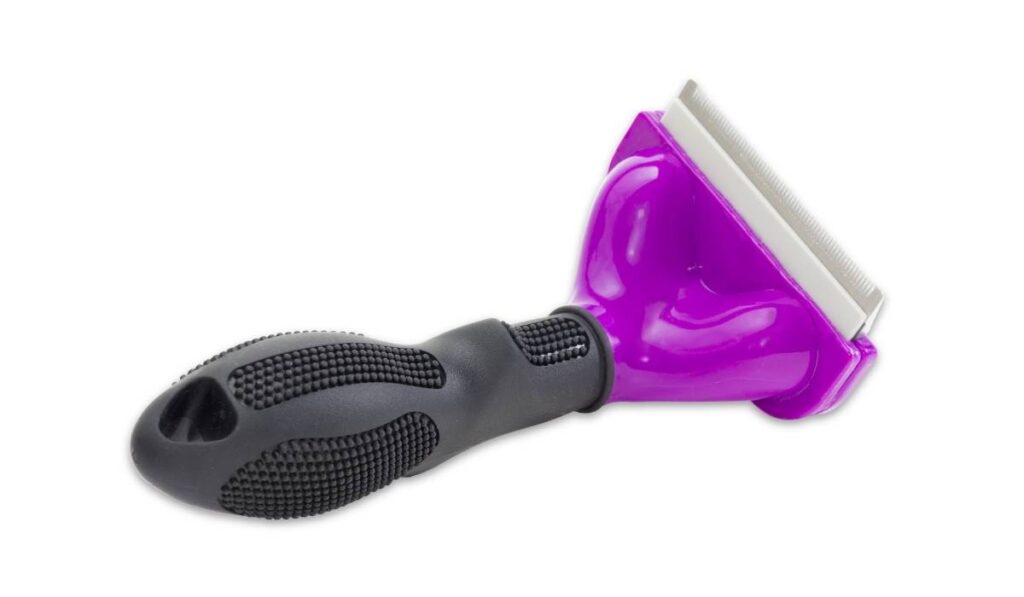 If you have a Golden Retriever that has a very thick undercoat, you must consider trying an undercoat rake. They are much tougher compared to a slicker brush but are perfect for dogs with heavy undercoats like Golden Retrievers. 
Now that we know what types of brushes are the best for Golden Retrievers, without further ado let's begin with the list. 
1. Wahl Slicker Brush
Wahl Slicker Brush is the perfect choice for a Golden. It has great customer feedback and is a highly rated product with less rate of returns. The brand is quite popular in this particular category and has a 4.1-star rating on Amazon. 
Features 
• Fun Grooming — The process of grooming gets much easier and faster with Wahl Slicker Brush. It removes all the loose fur, debris, and dead skin without causing any pain or harm to your dog. It is gentle and works on any hair type. 
• Soft Grip Handle — Ergonomic handle is made to provide an easy and firm grip on it. It has a comfortable soft grip which puts less pressure on the wrist while moving the brush.
• Stainless steel pins — The fine stainless steel pins reach deep into the Golden's coat and break up tangles, knots, and remove loose fur easily. It de-mats and removes any debris giving your pet a healthy shiny beautiful fur coat. 
• Hanging hole — It has a large hanging hole that allows you to hang it anywhere at your convenience. 
This is the perfect fur brush for paw parents on a budget. They are also available in various combinations of fur brushes with a detangling comb or undercoat rake. 
2. HANK Self Cleaning Slicker Brush for Dogs
Hank is a popular pet product brand. It has amazing reviews on Amazon and thousands of happy customers. The brush is highly praised for its durability and easy-to-grip feature. It has a 4.2-star rating on Amazon and less rate of returns. 
Features. 
• Get rid of mats and debris — Using this brush is like giving a massage to your dog. It had stainless steel round soft songs that go deep into the coat. It gets rid of any loose fur, dirt, dead skin, knots without irritating or hurting your dog's sensitive skin. 
• Safe and painless — This dog brush aims towards providing the best grooming experience by gently massaging the coat for a healthy shin and increased blood flow. 
• Types of coats — The brush works beautifully on medium to long fur coats. Not recommended for short hair type, hence perfect for a Golden Retriever. 
• Grip and Push-button — It has a smooth handle for comfort and easy grip. It is also anti-slip and has a self-clean push button. This self-clean push button makes it extremely easy to collect the loose fur and helps avoid any mess. 
I would highly recommend you to try this product, especially because of its self-clean push button feature. It is a great choice for beginners. 
3. Foodie Puppies Grooming & De-shedding Brushes
Foodie Puppies Grooming and De-shedding combination pack is the perfect option for you and your dog. It comes with 2 tools that can help you get rid of mats, tangles, and dead skin cells. It has a plastic slicker brush and a double side comb. 
Features.
• Bristles — It has gentle round-tipped bristles that work wonders for dogs with sensitive skin. Removes any loose hair, dirt, debris, tangles, and dead skin without causing pain or discomfort. 
• Quick Grooming — This brush can be used on wet or dry hair, and it mimics the touch of your hands for a massage effect. It includes 180 soft silicone rubber tips to groom with ease and comfort. 
• Auto cleaning hair comb — Hair sticks out to make it easy to clean and remove all the loose hair without creating a mess. It makes the process of brushing and grooming fun and hassle-free. 
• Auto cleaning hairbrush — The hairbrush has an auto push button that allows the user to get rid of all the loose hair from the brush. This makes it a clean and mess-free process and keeps your house clean with a true touch of minimal effort. 
• Comfortable grip — The handle is designed with a comfortable grip and high-quality material. 
It has a 4.3-star rating on Amazon and is one of the top products in this category. 
4. WAHL Large Nylon Slicker Brush
This is our second slicker brush from Wahl. As mentioned above Wahl Slicker brushes are quite popular and have high ratings on Amazon. They are considered to be value for money and high-quality deshedding brushes. 
Features. 
• Easy to carry — The ergonomic design of the brush makes it convenient for the paw parents to carry the brush while traveling with their dogs. They are easy to store and lightweight to carry. 
• Non-slip handle — The ergonomic design of this brush allows the pet parent to give long grooming sessions to their dogs with comfort. It is designed to put less strain on the wrist and provide a steady grip on the brush to avoid any mishaps. 
• Promotes a healthy coat — The soft bristles reach deep inside the coat and help increase blood circulation. This results in de-shedding loose hair and promoting new hair growth. 
• Nylon Bristles — The brush pins are made up of soft, round-tipped nylon. They give a calming effect that will relax your dog after a long tiring day. They are perfect for sensitive skin and will remove any loose hair effortlessly. 
It is one of the most expensive brushes on our list, but I would recommend you to check this brush as it is worth every single rupee. 
5. Bhavyam pet grooming & cleaning slicker brush
Bhavyam Self Cleaning Slicker Brush for Dogs is the perfect brush for removing all the nasty mats and dirt out of your dog's hair. This brush makes it easier to groom and a calming experience for your dog. 
Features. 
• Perfect for long to medium hair — This brush is perfect for dogs with long to medium hair like golden retrievers. It has 12 mm needles that can bend up to 60°. 
• Brush pins — The brush pins are made up of high-quality stainless steel and aren't harsh for your dog's skin. They are flexible and can bend up to 60°. It reaches the root of the hair and massages the skin. 
• Firm Grip — The handle is made up of a non-slip material providing a firm grip to the pet owner. The handle is designed to prevent hand or wrist strain. 
• Push Button — It has a push-button that allows the user to remove the loose hair from the brush without much effort. 
This is a 7.48-inch brush that makes it travel-friendly and easy to carry. 
6. ShedTitan Pet Grooming Tools Value Bundle 
ShedTitan Pet Grooming undercoat rake has a unique blend of two dematting tools. The company aims towards 100% customer satisfaction and providing top-notch quality products. 
Features 
• Extra Wide Dual Head Blade — The rake has an extra-wide dual-head blade that covers a large surface area. This helps you save time and energy. 
• 9 long blades — Long stainless steel blades cut through the stubborn knots and get rid of loose hair. This works great for Golden Retrievers with a heavy undercoat and long hair. 
• Unique Blend of 2 dematting tools — It is a strong blend of 2 different tools to achieve wonderful results when detangling, dematting, shredding, etc. 
• Promotes healthy growth — Daily brushing helps increase blood circulation, this results in promoting a healthy and shiny coat. 
This is an expensive undercoat rake but is a great investment. It is heavy-duty and highly durable. It has an amazing 4.5-star rating on Amazon. 
7 POODLES double Row Dog Rake
If you're looking for an affordable yet effective dog rake, then Poodles double row dog rake is the best choice for you. It is pocket-friendly, good quality, and compact. 
Features
• Professional grooming comb — Removes dead skin, mats, and tangles. It is gentle and safe for regular use. 
• Compact and lightweight — The ergonomic design of this rake allows a comfortable grip on the user. It is lightweight and has non-slip grip support to prevent any accidents. 
• Product structure and material — The bristles are made with stainless steel with double rows. It is quite sturdy and durable. The brush head consists of high-quality plastic and the handle provides a firm grip.
It has a simple design and works beautifully on long thick coats. It has a 4.4 rating and is affordable. 
Conclusion  
We have finally completed our long list of 7 Best Deshedding Brushes for Golden Retrievers in India. Grooming is a form of affection and is the best way to relax your dog.
I hope you guys found this article useful and find the right de-shedding brush for your lovely paw friend.