A dog is the best thing that can ever happen to you. There will be a lot of cuddles, adventures, fun and there won't be a day when you feel sad or unloved. But for this to happen, you also have to take care of your pooch properly so that they have a healthy and happy life so that the happiness also reflects in your life. 
So how much money is actually needed for a Dog to have an amazingly fulfilling life in India? Well, here's an estimate for it. 
The main contributing factors to the expenses of a dog are the age, size, breed, and the location that the dog lives in. Like for example, larger dogs require more food and frequent feeding than the smaller breeds.
Some breeds like Beagles don't need a whole lot of grooming. Puppies, despite being small, might require some extra care and special grooming products. Similarly, some breeds may simply require more maintenance than other breeds. 
The expenses of raising a dog in India include various kinds of monthly, yearly, and some 'on demand' expenses. These can be.
Food 
Food is one of the biggest contributors when it comes to raising a dog as it is obviously a recurring expense. Food needs to be bought regularly, almost on a monthly basis as it is one of the most basic needs of any dog. Larger breeds may need more food than smaller breeds and that's why the total expense of the food also depends upon the breed of your dog.
There are two options for food; packed dog food and home-cooked food and the expense also changes according to what you opt for.
A 10 kg pack of dog food from pocket-friendly and reliable brands like Pedigree or Drools can be about 1100-1700 Rupees whereas 10 kg packs of more expensive brands like Grain Zero, Purina, or Himalaya can be in a range of 2000-4000 rupees. So, on average, if your dog requires 10 kg dog food a month, the average expense comes to at least 1500/- per month or more depending upon the quality and quantity of the diet of your dog.
Now, when it comes to home-cooked food, the cost of chicken, ideally twice a week and eggs on a daily basis can also bring the cost to at least a good 2000/- per month.
Also read: 13 Indian Food Dogs Can and Can't Eat
Treats 
Treats to dogs are like candies to humans; they absolutely love them! But treats aren't just a luxury. These insignificant-looking chewable thingies are very necessary for your dog's dental health and their oral hygiene as chewing treats helps with preventing tar on teeth.
Thus, treats are also considered as a frequently recurring expense. Dog treats, both vegetarian and nonvegetarian kinds can be found in various shapes and sizes starting from sticks to bites-sized cubes to bone-shaped munchies, snack bars, jerkies, dog peanut butter, and sausages.
The prices of these treats fall under a very wide category starting from as cheap as 150 rupees per packet to very expensive ones worth 900/- per pack. 
Food supplements
Food supplements are a very good source of nutrition for dogs that are fussy eaters. Especially breeds like Siberian huskies, German Shepherds, Labradors, and most of the small breed dogs tend to skip meals and thus may struggle with getting the right amount of necessary nutrients even after your efforts to provide an abundance of food.
These supplements can be found in various forms including threats, specially formulated dehydrated food, immunity-boosting syrups, fish oils, and capsules, and can cost between 200 to 800 rupees range. 
Toys 
Toys keep dogs entertained and active. Chewing toys help puppies for teething and certain specifically designed toys also help maintain oral hygiene. However, your dog might have a tendency to devour chewing toys very frequently making them almost a monthly expense.
Different varieties of toys made up of rubber or ropes can cost around 200-300 rupees; however more 'interactive' toys can cost up to 2000-3000/-
In the end, dogs are simple beings. They love a very expensive interactive toy as much as they love a simple ball or even a wooden stick. Thus a toy isn't a very 'necessary' expense and depends mostly on your decision of whether to buy it or not. 
Accessories
Accessories are more of an annual expense as dog collars, harnesses, and leashes of good quality can be used for a long time. Accessories like harnesses and collars should be bought by taking into consideration the fact that they need to be comfortable enough for the dog.
Such accessories may depend on the breed size and activity level of your dog and thus the costs may differ for every dog. The simplest harness with a leash for a small dog can cost up to 400 rupees while a comfortable thick harness for an active medium or large breed dog can even cost up to almost 3000 rupees while a basic dog collar can easily cost around 400-500 rupees. 
Among other accessories, pet clothes are also very popular. Shirts, sweaters, and t-shirts, mostly for smaller breeds and occasionally for the larger ones can cost between 300-1000 rupees depending upon the degrees of customization. 
Vet visitations 
Just like human beings, dogs can get sick too and for such situations, a visit to the vet becomes absolutely necessary. Along with these very necessary visits, some people may also feel that regular check-ups are important and thus have a vet schedule.
In India, visitations to the vet can range from 200 to 700 rupees per consultation depending on the clinic and the vet. 
Medical expenses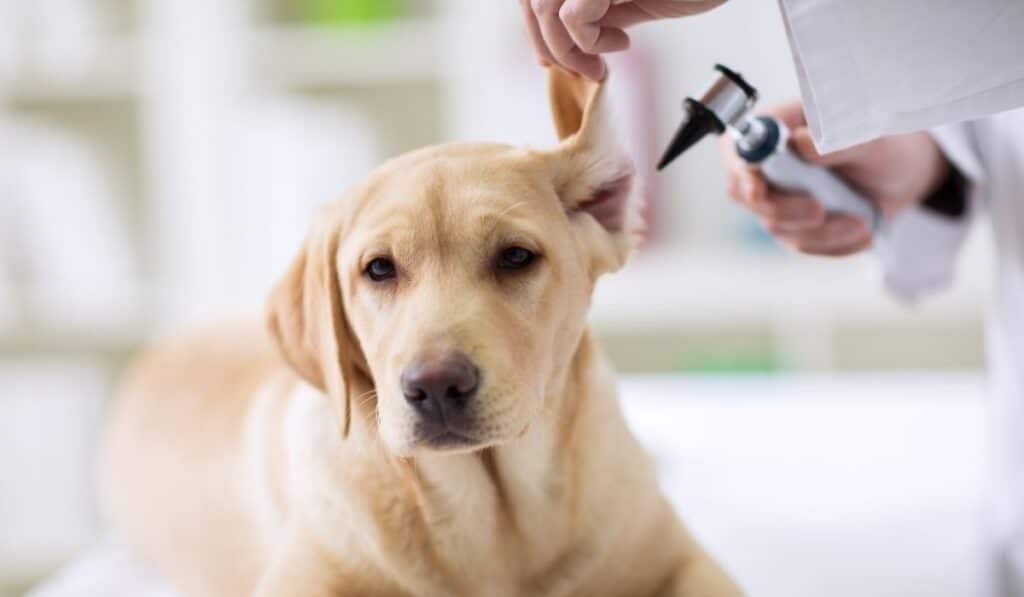 Excluding the vet visitation, medical expenses can include the cost of medicines and other medical procedures like surgeries and hospital admissions. The common medicines can cost as cheap as 100 rupees whereas the very specific medication may cost up to 1500 bucks.
Surgeries can cost from 10,000 to Lacs of rupees for more complicated procedures. Some dogs may have genetic disorders and even cancer which will require more spending money. 
Vaccination and De-worming
Vaccinations are a bi-yearly expense and are one of the most important expenses for keeping your dog and the people around them safe. Puppies are also required to take the necessary vaccines at more frequent intervals than adult dogs. These vaccines can cost around 1000 to 2000 rupees every year.
Similarly, deworming is also a very essential process for your dog's healthy life as parasitic worms can harm dogs greatly. The de-worming tablets cost 200-400 rupees and are given in an interval of 3 months. 
Grooming 
Grooming your dog can be an expensive deal when done by a professional groomer. The sessions may cost at least 1000-3000 rupees depending on what needs to be done. However, you can also try grooming on your own with the right tools including de-shedding brushes, fur trimmers, nail cutters, and bath brushes.
And if you have low-maintenance breeds like Beagle or indie, you can totally take the initiative of home grooming with the grooming kits that cost between 1500-2000 rupees. You can also make your own collection of grooming tools by buying them separately according to your needs.  
The Grooming expenditure also includes buying shampoos and the occasional flee treatments that can cost anywhere between 300-2000 rupees depending on the brand of the shampoo and flea treatment. 
Miscellaneous 
After all these expenses, there might be some more additional expenses that need to be considered when we calculate the expense of raising a dog in India. The additional cost of essential accessories like bed and feeding bowls can add to the expenses.
The beds range from 500 rupees to 1500 rupees depending upon how much comfort and luxury you want to provide. This can be cut down if your dog prefers to sleep in your bed or somewhere specific like on the sofa or simply on the floor.
Feeding bowls can cost around 200-500 rupees. More fancy gadgets like water dispensers and portable bottles are also buyable as additional accessories and cost around 200-1600 rupees depending on the innovation quality. 
Final Thoughts
The expenses of buying a puppy and registering him do add up to all these expenses. The initial months of raising your puppy can be more expensive than the later months as most of the things have to be bought from scratch, be it accessories, toys, or feeding bowls.
However, adopting a dog then buying is always an option; it not only helps an innocent animal find a forever home but also cuts off the 'buying cost' except for the mere 40 rupees of registration fees. 
The expenses given here are an estimation of the potential expenses and can differ for different dogs. Thus, exploring and understanding your dog's needs and calculating your budget according to them is very important for your dog's happy and healthy life. 
Happy Canine Parenting!